Vandalism happens at the most unexpected of times. Even in the nicest neighborhoods and the safest schools in Houston, vandalism is still a problem. No matter what you do, people will be people and not all of them have the best of intentions.
Graffiti not only is expensive to repair, but it can also scare people away. Imagine the parents of a new student showing up to your school to find that the bathrooms are ridden with graffiti and obscenities. Or picture your clients taking the elevator for the first meeting with your company and seeing that the inside of it is scratched, damaged, and neglected.
That's not the impression you want to make. Fortunately, there's an easy way to keep your Houston property graffiti free: Graffiti Shield window film.
Graffiti Shield: What is it and how does it work?
Graffiti Shield is a special type of window film, or better put, surface film, that protects hard surfaces like mirror, metal, and glass from vandalism. The film is created with a special hard coat and is extra thick, which gives it the ability to protect against even deep scratches and acid.
Once installed, it covers up any pre-existing damage, like marker, paint, and pen, and also keeps the furniture or surface beneath from being ruined. In the case that some pesky vandal or evil doer comes along, the film will shield the surface from attack. After the damage has been done, it can simply be ripped off and replaced by a local window film technician.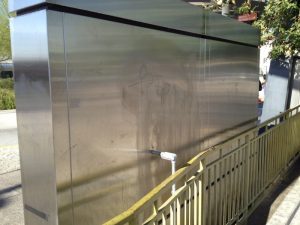 Applications for Graffiti Shield
Graffiti Shield window films have become very popular for Houston schools, businesses, and even transit systems. They're very versatile and work for a variety of different types of surfaces. Some of the most common applications for Graffiti Shield include:
-Metal benches, signs, and bus stops
-Train cars and light rails
-Metal display cases and signs
-Restroom mirrors and partitions
-Glass and stainless steel elevators
-Restaurants, retail, and hotels
-Escalators, stairs, and more!
Protect Your Houston Property with Graffiti Shield Window Film
Don't let your school, property, or business become a victim to vandalism. Call the experts at Window Film Houston today to have Graffiti Shield window film installed for your Houston building.